We are not your typical marketing agency…
We have broken down how digital marketing strategies work into single, standardized and affordable packages.
Instead of selling you extensive and confusing action plans based on an hourly rate, with us you can choose your marketing needs à la carte – at reasonable and fixed prices. Maybe you are just looking for a quick keyword research? Or you need help setting up your Yoast SEO plugin or your Google Analytics account?
Every website is different. Every niche is different. Every customer is different. Take back control of your marketing actions! Browse through our different service categories above or keep scrolling to learn more about them.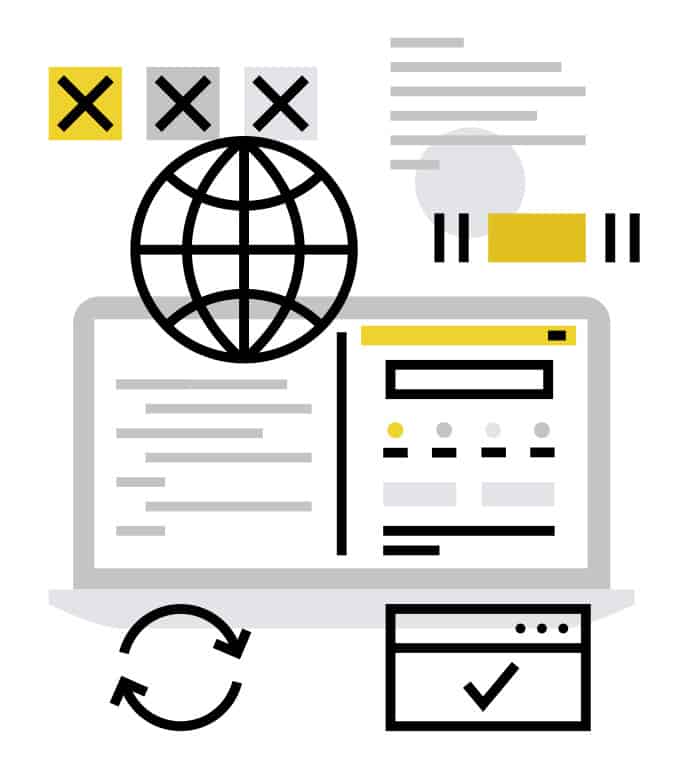 Digital marketing or online marketing or internet marketing are terms that embrace the marketing efforts to promote and sell products or services on the internet. As an internet marketer you have to know how to…
Create a great website and amazing content
Attract the right visitors to your website
Analyze what the visitors do on your website
At SEOintheSUN we have specialized in the following internet marketing fields and techniques:
The journey of an internet marketer starts with creating a website or improving an existing one. The website is your point of sale and your best chance to make a lasting impression on your customers. A good user experience and a professional, modern visual design is essential for digital success. Both build trust between the visitor and the organization. Trust turns a visitor into a customer or advocate of your company. Furthermore a website must convey relevant content to your visitors and help them understand how your products and/or services solve their problems. Your content is the single most important element in increasing the amount of customers. All our Web Design services »
Content Marketing is a marketing technique of creating and distributing quality content to attract targeted visitors to your website. The goal with great content is to create trust in order to convince the prospects to buy from you and not from the competition. Regardless of what type of marketing tactics you use, content marketing should be part of your process, not something separate. The written content you create for your website should be mainly based on the search terms (keywords) people enter in Google in order to find a solution or information related to your business. All our Content Marketing services »
Content Marketing is a marketing technique of creating and distributing quality content to attract targeted visitors to your website. The goal with great content is to create trust in order to convince the prospects to buy from you and not from the competition. Regardless of what type of marketing tactics you use, content marketing should be part of your process, not something separate. The written content you create for your website should be mainly based on the search terms (keywords) people enter in Google in order to find a solution or information related to your business. See all our Content Marketing services »

Search Engine Optimization (SEO) is basically what web designers and digital marketers do to make your website more attractive when Google comes along to index and rank your website. SEO in 2018 is highly related to content marketing. Every SEO or Content Marketing strategy starts with a keyword research that results in a list of keywords related to your business. After evaluating the keywords you start to keyword-optimize your website content in order to rank higher in Google when people use those search terms. That process is called on-page optimization. Links from other websites are also very important for good rankings. The efforts of getting links from other websites is called link building and belongs to the off-page optimization. All our SEO services »
Social Media Marketing refers to the strategy and tactics of gaining traffic or attention through social media sites like Facebook, Twitter, Instagram, Pinterest, LinkedIn and YouTube. As almost everybody seems to love social media and spends a good amount of time on one or more of those platforms, you can't miss out to be active there as well. Which platforms to choose and how to act on them, what content to share, when and how often – these are questions that must be answered in your social media strategy. All our Social Media Marketing services »
Social Media Marketing refers to the strategy and tactics of gaining traffic or attention through social media sites like Facebook, Twitter, Instagram, Pinterest, LinkedIn and YouTube. As almost everybody seems to love social media and spends a good amount of time on one or more of those platforms, you can't miss out to be active there as well. Which platforms to choose and how to act on them, what content to share, when and how often – these are questions that must be answered in your social media strategy. All our Social Media Marketing services »
In Paid Advertising you spend money on ads in order to increase the amount of visitors to your website. There are lots of different forms of online ads like text ads, banner ads, video ads or sponsored posts on social media platforms. You pay your advertisements via "pay per click", "pay per view" or even "pay per call". At SEOintheSUN we concentrate on the two most successful platforms for paid advertising campaigns: Google AdWords and Facebook Ads. All our Paid Advertising services »
So, you finished creating your website. You received your first visitors through good SEO content, your activities in social media channels and some paid AdWords on Google and sponsored posts on Facebook. What next? Now you analyze how many visitors you exactly have. How do they find your website and what do they do on it? Where do they click, what content do they stay most with and where do they leave your website? And most importantly, how many visitors take action and give you a like, sign up for your newsletter and finally buy your product or service? You can find all the answers to those questions and a lot more in your Google Analytics account. All our Web Analytics services »
So, you finished creating your website. You received your first visitors through good SEO content, your activities in social media channels and some paid AdWords on Google and sponsored posts on Facebook. What next? Now you analyze how many visitors you exactly have. How do they find your website and what do they do on it? Where do they click, what content do they stay most with and where do they leave your website? And most importantly, how many visitors take action and give you a like, sign up for your newsletter and finally buy your product or service? You can find all the answers to those questions and a lot more in your Google Analytics account. All our Web Analytics services »
We call the action that we want a visitor to take on our website (e.g. a simple Facebook like, newsletter sign up or a purchase) a conversion. The percentage of the visitors taking this kind of determined action is called conversion rate. Conversion rate optimization means a structured and systematic approach to improving the performance of your website. It has nothing to do with increasing the amount of visitors. What you do is to analyze the traffic you already have and making the most of it. All our Conversion Optimization services »