What page of Google am I on?

That's likely the most asked question in the world of SEO. Is your website already up and running and bringing in some traffic? Then you probably also wondered how to check keyword ranking in Google.
In any way, you made it far!
Now it's time to sweat the details and to improve your SEO. BUT.
Now's also the time to be careful. Because you can do more harm than good if you don't pay attention to the current status quo of your website!
How's that you ask?
If you realize it or not, by now your website is ranking for some or even many keywords in Google. So if you start changing your content, you might cause a drop in some rankings. Or you could waste time optimizing your page for already well-performing keywords.
Truly, what a mess! But don't despair, we show you a way out.
First, you need to analyze the current keyword performance of your website. Only afterward, you should start looking for ways to improve.
By the way, we assembled our Keyword Ranking Report for exactly this reason. To give you the keyword status quo of your domain.
Once we're done, you'll have the following insights:
Status Quo: Keywords your domain ranks for in Google's top 30.

Competitive Environment: SEO difficulties of all keywords and of your domain.

Ranking Strength: Summary of SEO difficulties of your top ranking keywords.

Keyword Selection Guide: Identify low-hanging fruits with good traffic potential.
Of course, choosing our service is the fast-track. But even if you're rather the "do-it-yourself" type: We've got you covered!
In this post, we explain every step of how to check keyword ranking in Google and what to do with it. In the end, you will precisely know how our service works and whether it's worth a buy for you.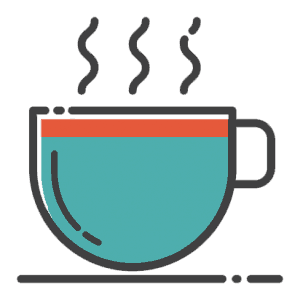 This post includes affiliate links to tools and products we use and love. If you buy something through those links, we might get some extra coffee money (at no extra cost for you!) which helps us create more awesome posts like this!
Terms & Tools: Keyword Ranking Glossary
But let's not jump in at the deep end. First, we want to bring you up to speed on the terms and tools that you'll encounter.
Google Search Console (previously known as Google Webmaster Tools) is a free and official service of Google. It lets you manage and analyze your website's data from an SEO perspective. Amongst other things, it answers these questions:
What keywords do you rank for?
How many backlinks does your domain have?
Which URLs should the Googlebot index and which not?
For our service, it would be ideal if you already have Google Search Console up and running. With access to it, we'll be able to export the keywords that your domain is already ranking for.
Without it, we rely on the external tool SEMrush to check your rankings. Its drawback is that it only works with national databases.
SEMrush is a paid SEO tool that we use as an alternative to Google Search Console. It comes with a whole variety of functions like keyword research or competitive analysis.
Unlike Google Search Console, it works with national databases. So its drawback is that you can only export reports on a country level.
SERPWatcher is a rank tracking tool and part of the mangools portfolio. It allows you to enter your domain and all the keywords for which you want to track your Google search position.
In our service, we use the tool to import keyword suggestions from Google Search Console, respectively, SEMrush. This way, we can verify and export the current position for each keyword. On top, we get the precise URL that ranks for a certain keyword.
KWFinder is another mangools tool and geared towards keyword research. It's perfect to search long-tail keywords and works on a globally aggregated level.
On top, you can import existing keywords to standardize and analyze their metrics. And that's what we do to give you, even more, info in our keyword ranking report.
How to Check Keyword Ranking in Google
Okay, let's face it: Checking your keyword ranking in Google Search Console or SEMrush doesn't take long. But that's not all there is to it. Sure you can do it the fast way.
But you can also do it in the right way. What we're talking about is a thorough in-depth analysis of your rankings.
You'll see soon: Running your domain URL through one of the many keyword position tools is just the first step. You still need to verify this info, enrich it with further metrics and organize it. Only then, you're ready to identify opportunities for improvement.
All that goes beyond simply looking up your Google positions. But it's all the more important! Now, we tell you what to do. Step by step.
With our Keyword Ranking Report, you get to skip right to the fun part, the conclusion: Spotting your low-hanging keyword fruits!
If you prefer to do it yourself, now the time has come to jump in headfirst. Just follow the steps below and you'll soon understand how to check keyword ranking in Google – in the right way.
Quicklinks:
Get keyword rankings! – Verify info! – Add metrics! – Organize it!
Conclusion: Identify opportunities!
Step 1: How to check keyword positions in Google?
There are two ways to get your hands on the keywords that your domain ranks for: Google Search Console (GSC) or an external tool like SEMrush. From our experience, both tools have their up- and downsides.
Search Console is directly linked to your website and gives you more keywords. Then again, some of our alleged rankings on the first Google position where, frankly speaking, wrong.
Since we verify all data in the second step, we still prefer this internal GSC access to an external tool. Have a look at how to check keyword positions in Google Search Console.

Go to Search Traffic > Search Analytics (left-hand menu).
Tick off the right settings (see screenshot).
Export the data, for example with Google Sheets.
As an alternative we use SEMrush. It's a great way for us to fetch the keyword rankings of clients who don't want to share their Search Console login credentials.
That's not the ideal way to analyze your own domain but a feasible alternative to circumvent Google Search Console. Here is how you get your domain's keyword rankings in there:
Go to Domain Analytics > Organic Research > Positions.
Type in your domain and select your preferred country.
Export the data, for example to Google Sheets.
What you now have in your hands basically is the "raw data" of your analysis. But you shouldn't rely on that quite yet. On the contrary: Stay safe and verify your data!
Step 2: How to verify the keyword information?
So far so good. You have an idea of what keywords your domain is ranking for. But honestly, keyword data is a mess. In our latest SEO research study, you can read all about it: Best Keyword Research Tool 2018
That made us suspicious by nature. And our notion is confirmed on a regular basis. Get this: Google Search Console actually sees us on the top Google position for a keyword like "supermarkets near me". The bottom line is: Don't be fooled by this data, do your homework and double-check!

To get rid of those irregularities, we always verify and standardize our data for all our SEOintheSUN keyword services. To do this, we use the paid tool SERPWatcher from the mangools team.
Once there, just set up a new tracking and import all the keywords that Google Search Console or SEMrush suggested to you.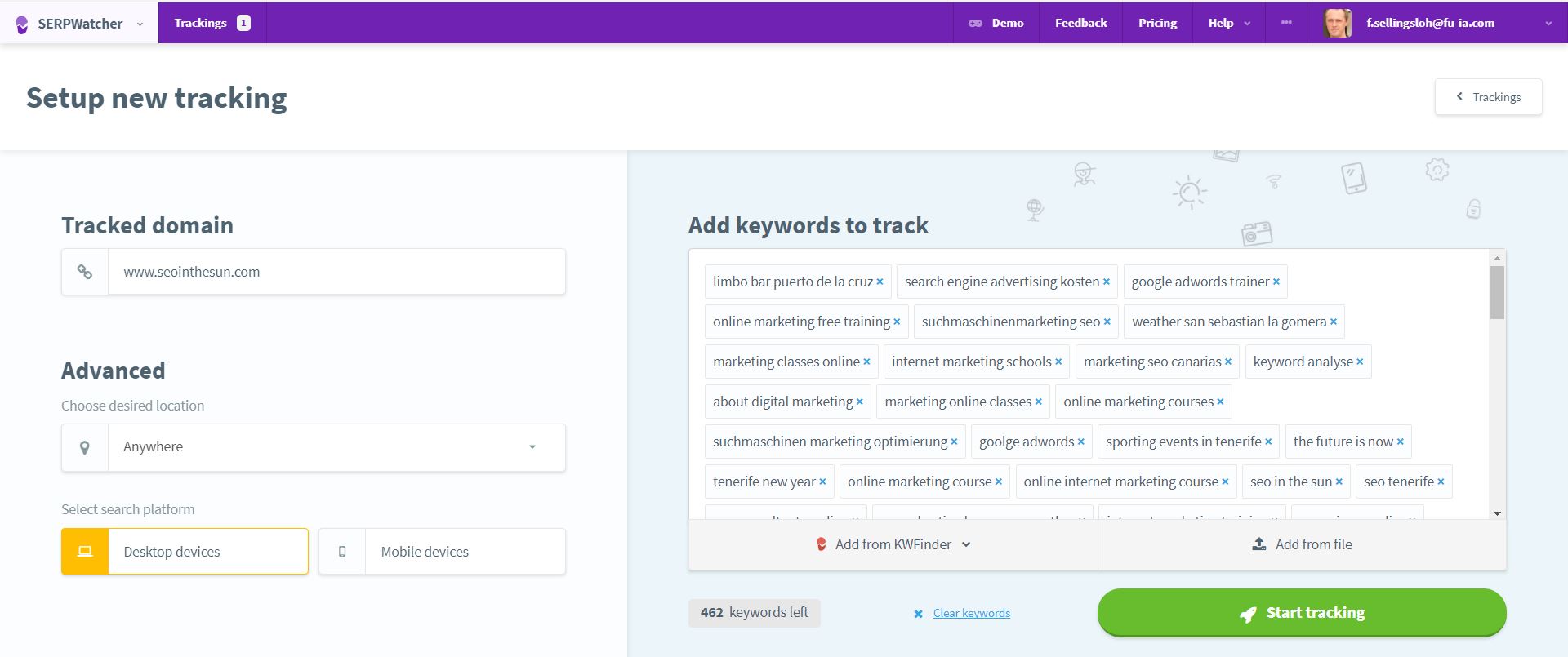 Add a new tracking and set it up by setting domain, keywords, and
the right country.
If necessary: Wait for the results to load. (Might take up to 1 day.)
Filter results for position 1-30 and search volume above 1.
Select all remaining keywords and export them with their metrics,
for example to Google Sheets.
Double-checking your keyword rankings is as easy as that!
And even better: SERPWatcher gives you the exact URL of your domain that's ranking for a specific keyword. This info is invaluable to identify opportunities for improvement, as you'll see later on.
Step 3: Where to get more keyword data?
What SERPWatcher does not give you by default though, are some important keyword metrics. What we're referring to are search volumes, the keyword difficulty, and cost per click. Luckily, the mangools subscription has another tool for this purpose.
This is where KWFinder comes into play. Usually, you'd use it to search for long tail keywords. But with its import function, you can get the same data for any keyword that's already on your list.
Also for those keywords that you pulled from Search Console and SEMrush? Exactly. Have a look how it's done:
Copy all suggestions to your clipboard and import them to
KWFinder. Don't forget to choose the right country.
Sort the results for SEO difficulty (ascending) and fetch all
difficulty metrics with the magnifying glass.
Select all remaining keywords and export them with their
metrics, for example to Google Sheets.
Use the VLOOKUP function to assign the right metrics to
the keywords in your previous list.
Having all the standardized data ready and available only gets you so far.
To arrive at the right conclusions, you need to go one step further.
Literally. Take a look at our next step.
Step 4: How to organize your keyword data?
Okay, theoretically speaking you now have all the insights you need to make an informed decision about …
… which keywords are your most important ones.
… which content pages to improve or to create from scratch.
… which keywords need their own landing page.
But in our experience, the output of keyword tools is a hassle to work with. To really make good decisions, you need a bird's eye view of all the data.
In our Keyword Ranking Report, we consolidate it all into a Google sheets list.
There you'll find everything your SEO heart desires: filter and sorting functions, new metrics calculated via formulas, explanatory notes and a lot more. Have a look at how we organize it in our template:

We will bring this template to life with data tailored to your business needs! Besides the sheet itself, you also get a histogram of your ranking strength.
Why do you need that?
This histogram is a graphical representation of your current Google SERP top 10 rankings. Each keyword has its very own difficulty. The higher it is, the more competitive will be the first Google search results page.
It shows you the difficulties where you already successfully managed to beat this competition and entered in the first 10 search positions. So it's realistic that you are able to do this again with another keyword.
The bottom line is: There is one difficulty score in the histogram where most values concentrate. Your new target keywords should have a similar difficulty in the same area.
From our experience, the difficulty of your domain is on the upper end of the histogram's range. So you can consider that as a maximum value. Don't target keywords with a higher difficulty than your domain.
How to Identify Your Keyword Opportunities
Fair enough, now you have step-by-step instructions showing you how to check keyword ranking in Google. And not just in a superficial way.
If you combine it with the right tools, you can make yourself a kick-ass Google sheets list with valuable insights.
But what to do next?
If you go for our Keyword Ranking Report service, we'll provide you with a handy PDF guide. It tells you exactly how to identify those keywords which are great opportunities for improvement. Plus, it goes hand in hand with our template and explains the different metrics and what they mean for your business.
Why can't we just tell you which keywords to focus on?
First of all, because you know your business inside out and can spot the most valuable keyword opportunities. On top, we want you to actually understand how keyword research is done in a proper way.
The best thing for you: You'll actually get a lot of insights into the world of SEO that will help you to run your website more efficiently. Have a look at the guide's cover page to get a grasp of all the topics that we will cover.
No worries! Also without our service, we won't leave you high and dry. Here's what you need to do in a nutshell:
All in all, checking your keyword ranking is no rocket science. But if you want to draw the right conclusions, you need to pay attention to many details. Now you have all the info to know how to check keyword ranking in Google. All by yourself.
If you go with our Keyword Ranking Report service, you can skip the tedious first steps and focus on what really matters: Identifying the best keyword opportunities for your business. And on top, you won't have to subscribe to one single paid keyword research tool.
Whatever you decide to go with, keep in mind that this analysis will lay the groundwork for any and all your upcoming SEO efforts.
Keyword Ranking Report
This detailed report tells you the keywords that you're already ranking for – plus their difficulty level.
You'll know exactly which suggestions from your next keyword research you can target successfully.