The World's Most Intensive SEO Training!
So, you are a hard worker and you want to learn as much as you can in the shortest time possible? Well, our SEO Bootcamp is perfect for you!
Get in-depth seminars, live demonstrations and workshops for 1 week – 6 hours a day.
The result: You will be able to work as an SEO magician and improve the rankings and traffic of  your own and your client's websites.
Get Trained by Our SEO Specialists
Learn Years' Worth of Knowledge in a Week!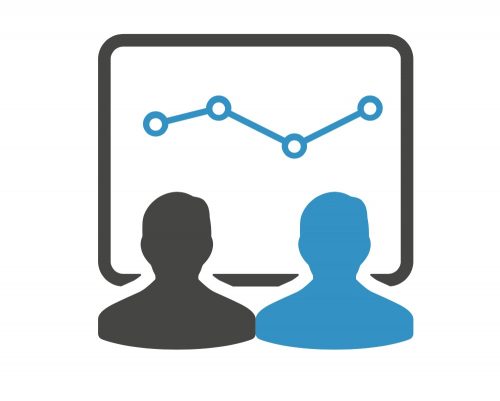 Introduction Day to Search Engine Optimization
Introduction to SEO  – Why it is essential? – 45 min Seminar
The Most Important Ranking Factors in 2022 – 45 min Seminar
SEO Show Cases – 45 min Demonstration
The Online Marketers Preparation Workshop I  – 45 min Workshop
Free Software & SEO Extensions for Google Chrome / Firefox – 45 min Workshop
Using SEO Tools  – Practical Training
We explain how SEO evolved over the years, what exactly it is in 2022, and why it's still one of the most important areas in digital marketing.
In the Online Marketer's Preparation Workshop, you will install the most important software tools and browser extensions and learn how to use them effectively.
On-Page SEO as The Foundation for Good Rankings
The Complete List of On-Page Elements – 90 min Seminar
Best Practice: Anatomy of a Perfectly Optimized Page – 45 min Demonstration
On-Page Audit Case Study / Site Clinic – 45 min Workshop
On-Page / Website Check (TBD) – 45 min Workshop
On-Page Optimization (TBD) – Practical Training
Being able to optimize a website properly is an indispensable skill. It is the building block of any good SEO campaign and will improve your website rankings right away. Here, you will learn how to structure the different subtopics of any website for maximum visibility and how to keyword optimize your content the right way.
You'll wrap up your day with hands-on practical training, where you will work independently to create your own On-Page Optimization.
Keyword Research & Content Creation
Understanding Keyword Searches – 45 min Seminar
Keyword Research – Best Practices – 45 min Demonstration
Introduction to Content Marketing – 45 min Seminar
Outline of an Evergreen Blog Post Based on Research – 45 min Workshop
Development of a Content Strategy – 45 min Demonstration
Plan Your Next 12 Blog Posts Based on Keyword Research – Practical Training
Smart keyword research can be the difference between a good campaign and a great campaign. We will teach you how to find the 'low hanging fruit' keywords – ones that are highly profitable and require less work.
We will introduce you to the concepts of Content Marketing and you will understand how to optimize your content to please both, your users and Google's Hummingbird algorithm. 
In the workshop, you will learn how to write an evergreen blog post that will drive constant traffic to your page. At the end of the day you will know how to develop a Content Strategy and you can start planning your blog posts based on a Keyword Research.
Link Building And Local SEO
The Value of Links in SEO – 45 min Seminar
Website Links Analysis (plus Competition) – Case Study  – 45 min Demonstration
7 Working Link Building Tactics in 2018 – 45 min Demonstration
Introduction to Local SEO – 45 min Seminar
Google My Business Optimisation & Citations – 45 min Workshop + Practical Training
You will learn the big picture of what Google is looking for in 2018. We will examine factors such as links, social signals and user metrics, and break down the strength of your own and your competitor's website links in a systematic approach.  Learn about our Nº1 link building strategy where we focus on giving Google the 'perfect' link.
We will introduce you to the concept of Local SEO. In the workshop you will undertake Google My Business Optimization and Citations.
Web Analytics – Tracking & Measuring Success of SEO
Introduction to Web Analytics – 45 min Seminar
Most Important Elements of Google Search Console – 45 min Demonstration
Most Important Elements of Google Search Analytics – 45 min Demonstration
Automated Reporting with Google Search Console & Google Analytics – 45 min Workshop
Creating a Keyword Ranking Status Report with Google Search Console – 45 min Workshop
Analysing Your Own Google Analytics & Google Search Console Data – Practical Training
Being able to read marketing data means better decisions and more profitable websites. With Google Analytics, we will show you how to accurately measure the value of different traffic sources. You will be able to learn about your visitor demographics and be able to anticipate their needs better. We will also dive into Google Webmaster tools, which is Google's direct line of communication to your site.  
In the workshop, you will learn how to setup automated SEO reports for your or your client's website.
The 3 Pillars of Our Teaching Success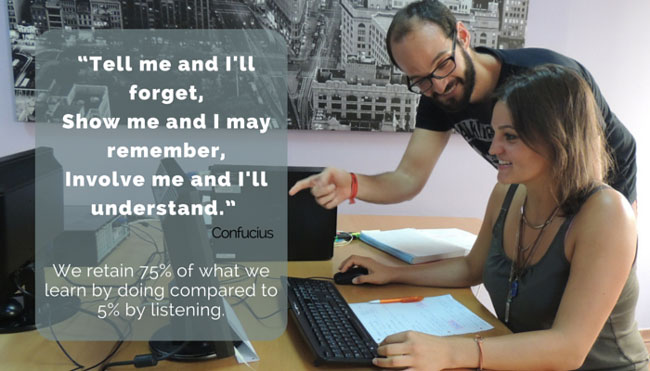 In our seminars, we work with presentations and teach you the theory and the WHY of digital marketing and its elements.
We will show you in our live demonstrations how we plan campaigns, create content, build a landing page, etc.
In the workshops, you will implement what you've learned before. We will be there looking over your shoulder to correct you.
Got some spare time after your classes?
Join our free weekly leisure activities …
Monday 2:30 pm – Visit to the Botanical Garden

Tuesday 2:30pm – Flamenco lessons

Thursday 2:30 pm – Salsa lessons

Friday 4 pm (winter) / 6 pm (summer) – Beach Volleyball

Weekends – There are plenty of things to do on the weekends.

From local fiestas or pub crawls to hikes or sunbathing on the beach, the island of eternal spring surely has something for everyone.
… or let us organize the best experiences Tenerife has to offer: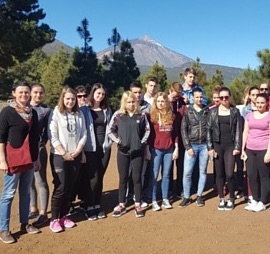 Teide Tour
Visit the highest mountain in Spain.
Excursion to The Teide National Park
You will visit La Orotava (a picturesque historic town close to Puerto de la Cruz). Then this will be followed by a visit to the Teide National Park with its dramatic volcanic landscape.

Masca Hike
Walk down along the gorge of Masca.
Masca Hiking & Boat Trip
You will take part in the 4-hour hiking tour passing through the impressive gorge of Masca until you reach the beach. After arriving at the ocean, a boat will take you to Los Gigantes.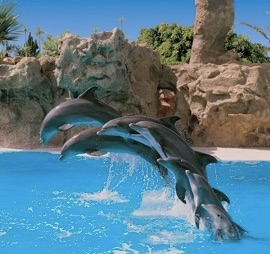 Loro Parque
Once a parrot parque, now a zoo.
Loro Parque - Europe's Best Zoo
In the Loro Parque, you will see a combination of magnificent animals and the biggest parrot collection in the world. You will be able to enjoy spectacular animal shows throughout the day.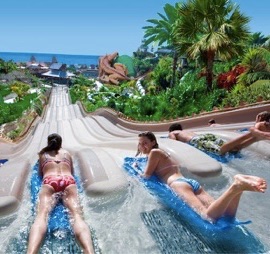 Siam Park
The Water Kingdom of Tenerife.
SIAM PARK - EUROPE'S BIGGEST WATERPARK
You will spend one day at the biggest water park in Europe enjoying lots of exciting water attractions. The highlight of Siam Park is the "Tower of Power" which is 28 meters high.
Whales
Whale and dolphin tour on the west coast.
Whale Watching On A Catamaran
In a 4.5-hour excursion, you will enjoy sailing on a catamaran from where you can spot whales and dolphins. While at the Masca Bay, you will be able to go for a swim.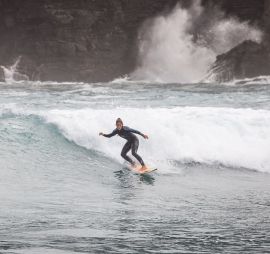 Surf Lessons
10 hours of surfing for beginners.
Surfing for Beginners
You will spend some afternoons in the rolling waves on our local beach. Trained teachers will introduce you to this exciting water sport – in theory and in the ocean.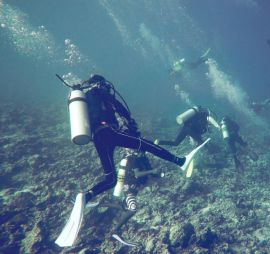 Diving
PADI Open Water Diver - beginners & advanced.
Diving Course at Tenerife's Coastline
Qualified instructors will introduce you to the magnificent underwater world around Tenerife for 1 or 2 weeks. There's a whole new world just waiting to be discovered.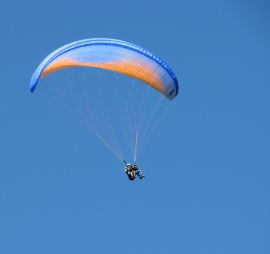 Paragliding
Flying in tandem over Tenerife's landscape.
Paragliding Tandem Flight
With one of your fully qualified instructors, you will fly in a tandem from one of Tenerife's various vantage points. Catch the thermals and enjoy the dramatic landscape.
Former SEO Students at SEOintheSUN Loved The Training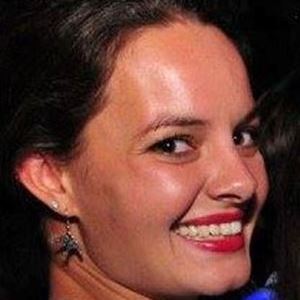 They really know about their topics
I had a really nice time during my SEO Boot Camp week. Frank, Tobias and George gave an overview of interesting things like Keyword Research, Content Marketing, Onsite Optimization, Google Analytics and Link Building. They were very open to questions and it was obvious that they really know about their topics. To apply and practice the newly learned material, we had the opportunity to use a lot of free tools they provided. I really learned a lot and enjoyed my stay!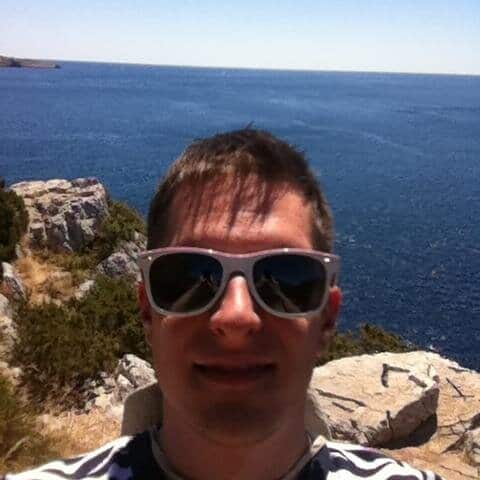 The seminars were interesting and engaging
SEOintheSUN seminars were interesting and engaging, and the trainers are really friendly and approachable. If you're new to internet marketing, taking these seminars is a great way to get you started in the right direction, while also meeting like-minded people and discovering the beautiful island of Tenerife.
Being aware of the importance of SEO
The SEO Boot Camp gave me a really detailed overview of SEO. I was a complete beginner when I came to Tenerife and, after a one week course at SEOintheSUN, I left the island with a bunch of new knowledge that will help me to optimize our company's webpage. I'm now aware of the importance of SEO and of how many mistakes we were making. Our trainers gave us interesting examples from their digital marketing experience. This made the course even more exciting. Besides the gained knowledge, I extremely enjoyed the relaxing atmosphere at SEOintheSUN. I would definitely recommend this course to all SEO beginners!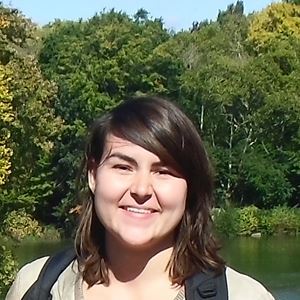 A full understanding of the concepts
"I took part in the one-week SEO Boot Camp and had a wonderful experience. I am really happy about how much I learned about Search Engine Optimisation. We covered everything from Keyword Research, Content Creation, and Onsite Optimisation to Google Analytics and Link Building. Frank, George and Tobias are great trainers working in the field. They were always open to questions. This allowed us to have a full understanding of the concepts. I especially liked that they provided us with many free tools as this will help me to get started with my own projects."
Buy Your Course With SEOintheSUN